March 28, 2015 at 2:42 pm
#87078
Ed
Participant
As Gordon mentioned, thunderstorms wont be something to expect at Cape Town when theres a COL centered inland. The reason is because there not too much instability present in this sector of the COL. Here some images to explain the different "sectors" that Gordon mentioned, and why most of the severe weather would occur east of the COL.
This figure below represents a vertical cross section of divergence through the center of the COL(along the 30 degree lat). But to put it simply, red colors at the surface(convergence; negative values) and blue colors(divergence; positive values) above it in the upper air will result in a very unstable atmosphere. So provided that theres sufficient moisture in that area , some good thunderstorm development should occur. This is clearly present east of the COL, and the opposite occurs west of the COL. By the way this is the same event which I posted a link of. Keep in mind the center of the upper low is about 27 degrees long, check the bottom image.
Below, the green color represents rising air and red colors descending air(also a vertical cross section for the same latitude). Lots of rising air occuring east of the COL as a result of the convergence at the surface and divergence aloft. Descending air occurs mostly where Cape Town is located at in this case. However the surface circulation(South Easter) that is most often the scenario at Cape Town as Gordon mention would still result in moisture advection and orographic lifting – hence the showery rain.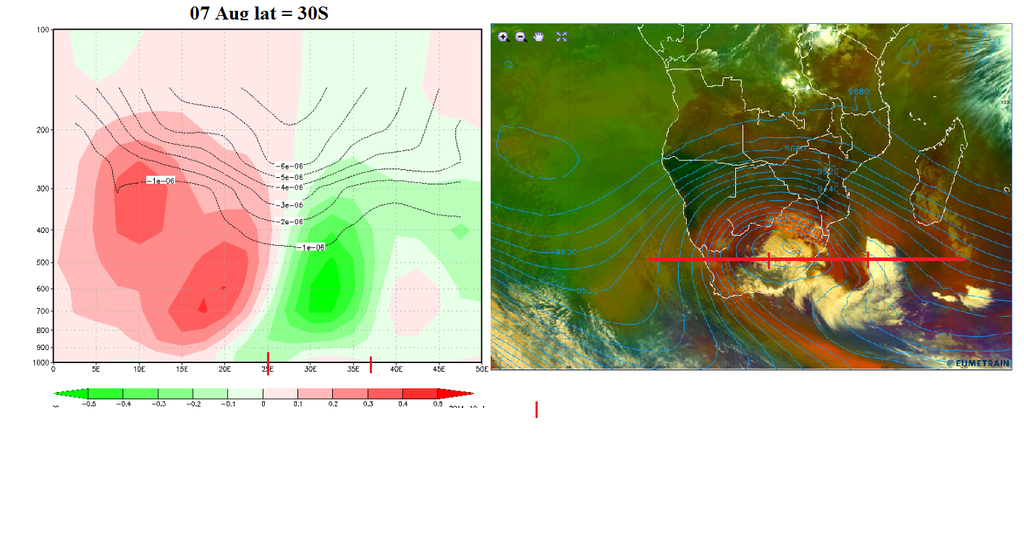 Hope this helps to clear up your question.